Book Launch
Book Talk | Nikhil Goyal | Live to See the Day: Coming of Age in American Poverty
10/05 Thursday | 5:30pm
Join the Institute for Public Knowledge for a book talk on Live to See the Day: Coming of Age in American Poverty with the author Nikhil Goyal in conversation with Andrea Elliott and Thomas J. Sugrue on October 5th at 5:30 PM.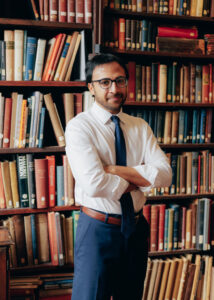 Nikhil Goyal is a sociologist who has taught for the NYU Prison Education Program and author of Live to See the Day: Coming of Age in American Poverty (Metropolitan/Macmillan, 2023). He served as senior policy advisor on education and children for Chairman Senator Bernie Sanders on the U.S. Senate Committee on Health, Education, Labor, and Pensions and Committee on the Budget. He developed education, child care, and child tax credit federal legislation as well as a tuition-free college program for incarcerated people and correctional workers in Vermont. Goyal has appeared on CNN, Fox, and MSNBC, and written for the New York Times, Washington Post, Wall Street Journal, Time, The Nation, and other publications. He was a Kathryn Davis Fellow for Peace at Middlebury College and Andrew W. Mellon Foundation Fellow at the Library Company and Historical Society of Pennsylvania. Goyal earned his B.A. at Goddard College and M.Phil and Ph.D at the University of Cambridge.
Two-time Pulitzer winner Andrea Elliott is an investigative journalist for The New York Times, a professor of creative nonfiction at Princeton University and the author of Invisible Child, which won the 2022 Pulitzer Prize in General Nonfiction and was chosen by Barack Obama as a favorite book of the year.
Thomas J. Sugrue is Professor of Social and Cultural Analysis and History, the founding Director of the Collaborative on Global Urbanism, and the Director of the Program in American Studies at New York University. The author of four books and editor of two others, he contributes to the New York Times, the Wall Street Journal, the Washington Post, the London Review of Books, The Nation, and Salon. He is a frequent commentator on modern American history, politics, civil rights, and urban policy. Sugrue has given over 350 public lectures throughout the United States and in Argentina, Canada, England, France, Germany, and Japan.