Lecture
Book Talk | Quinn Slobodian | Crack-Up Capitalism: Market Radicals and the Dream of a World Without Democracy
10/13 Friday | 12pm
Join the Institute for Public Knowledge's Global New Right Working Group for a book talk on Crack-Up Capitalism: Market Radicals and the Dream of a World Without Democracy with the author Quinn Slobodian, and an introduction by Maya Vinokour, on October 13th at 12:00 PM. This event will be in a hybrid format. A Zoom link will be sent to all registrants the day prior to the event.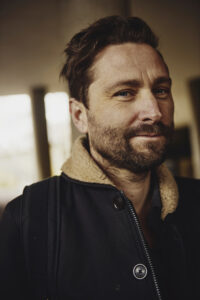 Quinn Slobodian is the author of Crack-Up Capitalism: Market Radicals and the Dream of a World without Democracy published by Metropolitan Books in the US, Penguin in the UK, Suhrkamp in Germany, Seuil in France, and elsewhere. His previous book, Globalists: The End of Empire and the Birth of Neoliberalism (Harvard University Press, 2018), won the American Historical Association's George Louis Beer Prize and has been translated into seven languages. He is professor of history at Wellesley College, contributing writer to New Statesman, co-edits Contemporary European History and co-directs the History and Political Economy Project. He lives in Cambridge, MA.
Maya Vinokour works on Russian literature and cultural history from the late nineteenth century to the present, with interests spanning Soviet labor culture, science fiction and film, and post-Soviet media. Her book project, Work Flows: Stalinist Liquids in Russian Labor Culture, investigates the metaphor of flow as a central figure in Russian labor discourse since 1870. She has written on contemporary Russian politics and culture for the NYU Jordan Center's All the Russias' Blog, which she edits, and for the Los Angeles Review of Books. Currently, she and several collaborators are creating a bilingual, public-facing multimedia sourcebook of the post-Soviet 1990s, which charts the rise and fall of Russia's only independent public sphere to date. She is co-editor (with Ainsley Morse and Maria Vassileva) and -translator of Found Life: Poems, Stories, Comics, a Play, and An Interview (Columbia University Press, 2017), a collected volume by the contemporary fiction author and Runet pioneer Linor Goralik. At the IPK, she co-organizes the Working Group on the Global New Right with Leif Weatherby.