Lecture
Book Talk | Melina Sherman | How We Hurt: The Politics of Pain in the Opioid Epidemic
10/16 Monday | 5:30pm
Join the Institute for Public Knowledge for a book talk on How We Hurt: The Politics of Pain in the Opioid Epidemic with the author Melina Sherman, in conversation with Natasha Schüll and Emily Martin, on October 16th at 5:30 PM.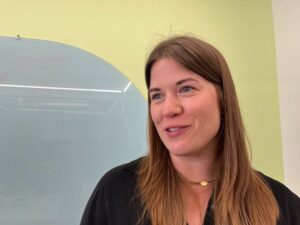 Melina Sherman is a critical health communication scholar and researcher at Knology, a New York City-based social science research non-profit. Her research interests center on the relationship between health, culture, and media. Specifically, Melina's work has focused on examining the social and cultural construction of public health crises, such as the ongoing U.S. opioid epidemic and COVID-19, and how these crises evolve online and offline. Most recently, Melina's research appears in her newly published book, titled How We Hurt: The Politics of Pain in the Opioid Epidemic (2023, Oxford University Press). How We Hurt examines how the problematization and treatment of pain in the United States has shaped the trajectory of the ongoing opioid overdose crisis. Melina's work has also appeared in a number of communication and social science journals, including Public Culture, Communication, Culture & Critique, and the International Journal of Communication. 
Natasha Schüll is a cultural anthropologist and associate professor in the Department of Media, Culture, and Communication at New York University. Her work explores the psychic life of technology with a focus on themes of addiction, anxiety, and affect modulation. Her 2012 book, ADDICTION BY DESIGN: Machine Gambling in Las Vegas (Princeton University Press 2012), parses the intimate relationship between the experience of gambling addiction and casino industry design tactics, showing how architectural, atmospheric, ergonomic, audiovisual, and algorithmic-computational techniques are marshaled to suspend — and monetize — gamblers' attention. Her current book project, KEEPING TRACK (Farrar, Straus, and Giroux, under contract), explores the rise of sensor-based, digital technologies of the self and the new modes of self-care and self-regulation they offer. Her documentary film, BUFFET: All You Can Eat Las Vegas, has screened multiple times on PBS and appeared in numerous film festivals.
Emily Martin is a Professor Emerita of Anthropology at New York University. She is the author of The Woman in the Body: A Cultural Analysis of Reproduction (1987), Flexible Bodies: Tracking Immunity in American Culture From the Days of Polio to the Age of AIDS (1994), and Bipolar Expeditions: Mania and Depression in American Culture (2007). She is the founding editor of the public interest magazine Anthropology Now.